Australian parliament approves same-sex marriage
7 December 2017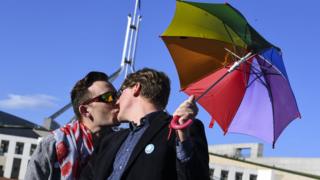 Image copyright EPA Image caption Same-sex marriage supporters outside Australia's parliament on Thursday
Same-sex marriage will become legal in Australia after a historic bill was passed in the House of Representatives.
An overwhelming majority of MPs voted to change the Marriage Act, eight days after a similarly decisive result in the Senate.
The vote set off immediate celebrations in parliament, prompting cheers, applause and even a song.
The result brings an end to more than a decade of robust and often bitter debate on the issue.
"What a day for love, for quality, for respect," said Prime Minister Malcolm Turnbull.
"Australia has done it."
The legislation sailed through parliament without amendments after Australians overwhelmingly supported the reform in a voluntary national poll.
Australia's governor-general is expected to approve the bill in the coming days, marking its official passage into law.
Australians decisively back gay marriage
How the campaign became heated
'Too old for all the fuss'
Emotional MPs hugged each other before supporters in the public gallery began singing "I am, you are, we are Australian".
Skip Twitter post by @hamishNews
Wow. Australian Parliament pauses as the gallery sings "I am, you are, we are Australian", upon pssing #MarriageEquality laws
— Hamish Macdonald (@hamishNews)
December 7, 2017
Report
End of Twitter post by @hamishNews
Skip Twitter post by @jasonballau
Australia has passed #marriageequality. I want to pay tribute to every single LGBTI person and ally who fought for years to get us to this moment. Today is our day. Today love won, and all Australians are better off for it.